Celebrating the Arrival Sept 9/03:
We ended up motoring all the way into the Bay in dense fog. We had to sort of use our imagination to see the bridge at first. We were welcomed by dolphins jumping around the boat. and popping the champagne under the Golden Gate Bridge in celebration of our arrival.
---
SAUSALITO
We anchored in Sausalito...a funky little town across the Bay from downtown. There is a fantastic view of downtown San Francisco from here and the night skyscape is awesome. There is the Sausalito Yacht club nearby that allowed us to use their showers. We were also able to buy boat parts here to do necessary repairs, like replacing the windex.
Sept. 9-13
We've had a few mishaps, like a split holding tank from the head, propane tanks that US Reg. wouldn't fill and minor repairs that needed parts we can't find. So we were forced to rent a car to get everything done but made good use of it to take the opportunity to tour around town.
It has been a very enjoyable week sightseeing, visiting Fisherman's Wharf, Pier 39, riding the Cable Car, touring China Town and all that stuff. Watching the J-boats race at Presidio was a treat! Weather is fantastic, really hot.

Marv flew home September 13 so we had sad farewells but hope to see him in the South Pacific soon.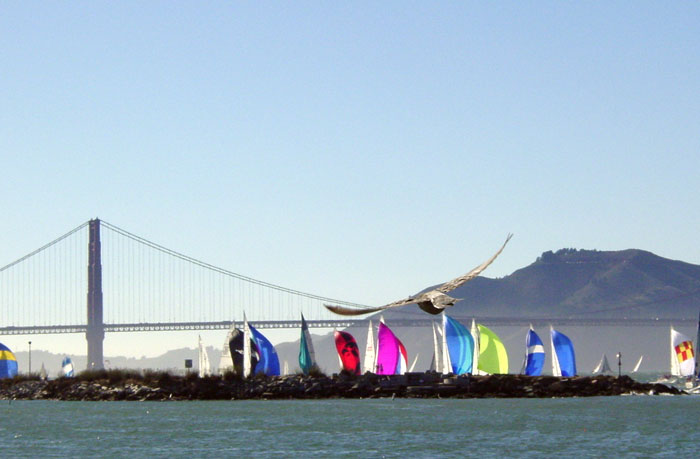 We attended a pot luck supper on Orion, a 60 foot sailboat anchored beside us. There were about 20 people from various other Canadian boats that are also heading to Mexico. Most are members of the Blue Water Association but warmly welcomed us into their group. It was great meeting so many people that we will be connecting with along the way. They are a great bunch, mostly our age and most doing their passages for the first time also. They gave us the news that the crew of Reaction, also member of their association, are repairing their boat and continuing on, so perhaps we will meet them very soon.

Click here for Photos SIDNEY TO SAN DIEGO